It has been two weeks since we finished up our 6-week Paleo Challenge.  The winners Steve, Courtney, and Lisa were not the only ones with amazing results.  All of our athletes who participated have spoken of some positive changes in their overall health and fitness.  Many of our Flight Crew have opted to continue their new whole-foods lifestyle into the fall and winter months.  The Paleo Party was a huge success and it was inspiring to see and hear many of you talking about how this challenge inspired you to reevaluate your previous eating habits.  The challenge also empowered many of you with knowledge you can take forward into the future to help you chose healthier eating options.  A healthier diet will lead to greater gains and quicker results from the hours you put in at the box!
We are so proud of all who participated and we look forward to helping you continue to reach your health and fitness goals as we move into the fall and winter months.  To show our continued support of the Crew, we are giving away three 1/2 long massages to Whole Body Works with Shannon Hole.
To enter: You must have been one of the 36 Crew members who participated in the 6-week Challenge.  Entry into this contest is simple, you must comment below on THIS BLOG POST and respond to any or some (with a few sentences or more) for the following:  How did participating in the Paleo Challenge change you?  What results did you see and/or experience?  What is something you learned about yourself or nutrition that will stay with you?  How did this 6-week challenge effect your long term goals for yourself? 
If you did not participate, we'd still love to hear from you.  Community support is a huge part of our Crews' success!  Feel free to comment below as well with ways that you were inspired watching our athletes as they progressed through the challenge or offer them a simple congratulations.
Looking for a fall inspired Paleo recipe to keep your healthy eating habits going?
Butternut Sage Soup
Ingredients: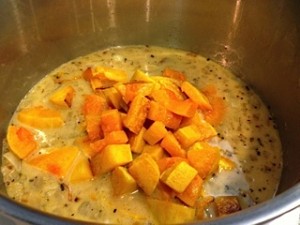 1 Butternut Squash
4 tablespoons coconut oil, bacon fat or ghee (divided)
1 Yellow Onion diced
4 cloves of Garlic, peeled and smashed
a pinch of Dried Sage
a Pinch of  Salt (
Black Pepper to taste
16 ounces Chicken Broth (chicken bone broth if you have it)
2 tablespoons Coconut Milk (optional – I used the coconut milk, in fact I think I used close to 3 tablespoons)
2 tablespoons of water (more or less as needed – I added the water at the end after all of the ingredients were processed together. It was really thick so I actually used a lot more than 2 tablespoons)
Juice from 1 orange
8-12 Fresh Sage Leaves (I didn't use these)
Method:
Preheat the oven to 400 degrees.
Peel and cut up the butternut squash. Toss the squash chunks in coconut oil (or whatever you use) until they are nice and shiny. Lay the squash out on a baking sheet so each piece is in contact with the baking sheet. Place in the oven and roast for about 40 minutes or until fork-tender. I left the squash in until the pieces started to caramelize around the edges. 40 minutes was exactly the right amount of time.
While the squash is roasting. Heat the rest of the coconut oil (or how ever much you need) in the bottom of a big pot. Toss the diced onions in and sauté until they begin to get brown around the edges (longer if you like). Add the smashed garlic to the sautéed onions along with the dried sage, salt and pepper. Cook for about 2 more minutes. Add the broth, and coconut milk.
Add the roasted squash to the pot and stir it all up. Squeeze the orange juice in and stir again (bits of orange pulp dropped into the soup as I was squeezing the orange, I left them in there. I figured that it could only make it yummier). Turn off the heat and let it cool a bit. After it has cooled put the whole mixture into a vitamix or blender or food processor and blend/process until smooth. This is when I added the water. It was really thick so I used the water to thin the mixture a bit, not much, just a little.
In a small frying pan or cast iron skillet fry the sage leaves in butter or ghee until they look crispy to the touch. Garnish the soup with a couple of sage leaves.
If you are interested in more recipes like this, check out our "Nutrition" link for our Amazon book selection.
The above recipe was taken from Practical Paleo.  <– Make sure to purchase it with this link!  😉